GLAMI CSS is an additional service to GLAMI that allows placing products through Shopping Ads on Google general search results pages on your behalf. This is a feature that allows you to expand the number of users you can reach with GLAMI.
What is GLAMI CSS?
The Comparison Shopping Service is an entity which can place products on behalf of multiple merchants on Google Shopping Ads. GLAMI, as a fashion search engine is eligible to be part of the CSS and thus, advertise on your behalf.
There are certain conditions that need to be fulfilled in order for your e-shop to be part of GLAMI CSS.
How can I join GLAMI CSS?
The process of joining is very simple. If you meet all the criteria below, your e-shop will be automatically enrolled in GLAMI CSS.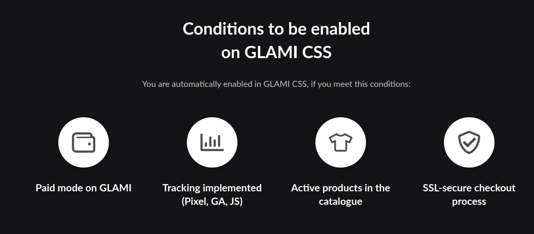 Why should I join CSS?
An automatic and simple solution - We do all the services for you including the setup of the account in Google Merchant Center (GMC), preparing the feed for GMC, the setup of Google Ads campaigns and most importantly, optimising towards your target COS.
You only pay for the clicks generated by GLAMI CSS - There is no special fee connected to the setup and management of GLAMI CSS services.
Save up to 20% of costs with GLAMI CSS

- Due to European Commission's antitrust policy Google is running a 20% discounted auction for non-Google CSS providers. You are able to notice this by higher traffic volumes on similar avg. CPC

or

by the same traffic volume on a lower avg. CPC generated by GLAMI CSS when compared with Google Shopping.