All details regarding payment history, invoice details and credit charges you can find in the "Payment & Invoices" section. Please check the article for detailed instructions.
How to charge the credit?
You can charge your credit in the administration under the tab "Payment & Invoices". You can charge the credit on a one-time basis (by credit card or bank transfer) or by automatic payment.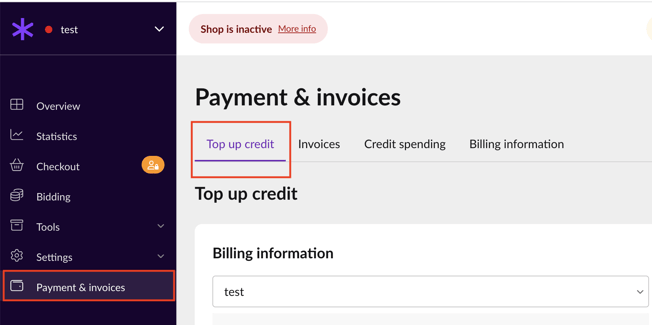 One-time credit charge
By credit card – credit is immediately added to the administration.
Bank transfer – credit will be added within a few days due to bank transfer delays. When making this payment, pay attention to the correct filling of the variable symbol (VS) and the exact amount; otherwise, it may happen that the payment will not be settled, and the credit will be credited with a delay.
Automatic payment
Your credit card is charged automatically.
It takes place if the credit balance is 5 times lower than the average daily e-shop spend.
Payment can be made no more than once per 72 hours.
Payment of any balance-based payment is not possible.
Keep your credit topped up to keep your products ranking well on the front pages of the catalog. The position in the catalog is determined not only by the current price per click, but also by other factors that will positively influence your staying in the leading positions for a longer period of time.
You can cancel your Automatic payment by clicking the "Turn off recurring payment" red button in the Payment & Invoices section.


Choosing this payment setting will help you maintain your performance since the e-shop will not run out of credit, and you will not lose traffic or conversions.
💡 Please keep in mind that payments are assigned to merchants rather than e-shops.
Case of more e-shops in one GLAMI market
In the case of one account (merchant) with multiple shops on specific markets, the credit charge is split among all accounts, and on the invoice, you can see the costs per shop. In the invoice section, you can add the invoice details for all shops.
Case of international shop in more GLAMI markets
In case you have the same e-shop listed on more GLAMI markets (international shop), in order to top up the credits, you will need to log in to the Administration Panel of each market and add credit. For each GLAMI market (country), there is a separate Payment and Invoice.
Where to look for Invoices and Payment history?
Invoices and Payment history can be found in the Payment & Invoices section by clicking on the "Invoices" tab.